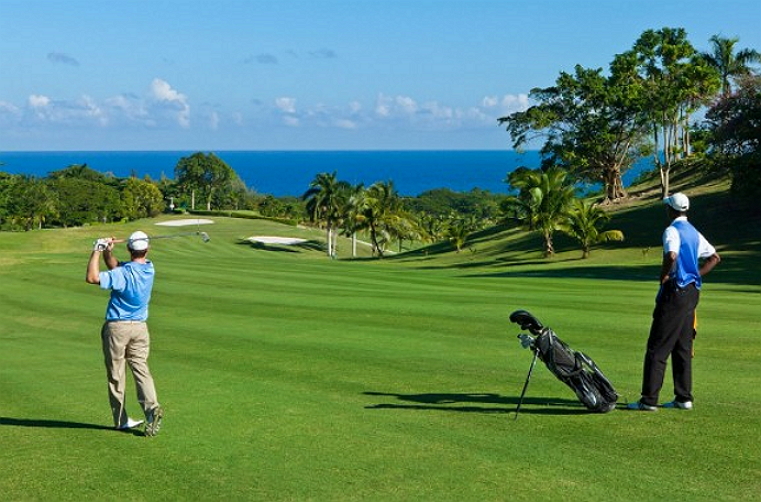 Golfing has long been one of the most loved sports for visitors who vacation on any of the many tropical islands in the Caribbean. It's such a loved activity that many visitors rather spend hours on the golf course rather than lounging under the sun.
One of the most favorite countries to visit for this event is Jamaica. They have what we can consider the perfect climate and temperature, lush green and well-kept golf courses, excellent routing, and amazing design. Be sure to read the article on what makes a good golf course to find out more information on this.
It's also important that we tell you that this is not an exhaustive list (by any means). There are other hotels on the island that offer incredible golf courses – we will only mention a few below. If you'd like to find others, please see best jamaica hotels.
Here are some of our top picks for hotels in Jamaica which offer amazing golf courses you can enjoy.
1. Sandals
Sandals have long been a resort that dominates the competition regarding its chain of hotels. However, their golf course is pretty dang amazing. They have an 18-hole course in Ocho Rios (one of their best) which give you not only an exciting challenge but amazing scenic views of the surrounding mountains and ocean. They have also been recognized by many big brands which is a pretty big deal if you ask us.
2. Hyatt Ziva Rose Hall
Yes, there's a fabulous Hyatt in Montego Bay, Jamaica (another big tourist areas for visitors). This location has one of the most beautiful green 18-hole golf course in Jamaica and the Caribbean. It's no surprise that at this place you can also expect captivating views of the ocean. It's called the White Witch Golf Course (definitely one worth checking out). If you're a beginner, you'll be happy to know that you can receive professional instructions (just set it up with the hotel).
3. Half Moon Hotel
For a good game of golf, you can surely expect to pay some dollars. While not really on the cheap side, Half Moon is a fantastic place to consider. With prices during golf season going up to $150, you're going to want to ensure that you take in everything from start to finish. Just in case you're wondering, it's also an 18-hole golf course and has also been the host of many PGA Tournaments (see the schedule for these games here.
4. Hilton Rose Hall
Another popular spot to welcome golfers is the Hilton Rose Hall which is also found in the parish of Montego Bay. You'll find the Cinnamon Hill Golf Course here, a stunning 4-acre, 18-hole golf course. It's perfect for anyone looking to enjoy an exciting day on the green.
Like Half Moon, there's a price to enjoy this luxury. Prices can range up to $200 (at least the last time we checked).
That's our top 4 picks for you to consider. Remember, there are other Caribbean countries scattered about that has amazing golf course resorts. The locations with the best can be found online by doing a simple online search.
Have we encouraged you to try Jamaica yet though? If we have, pack your bags and head there.